Spencer Reinhard is an artist whose story was recreated in the blockbuster film, American Animals. Now, he is releasing a collection of NFTs in collaboration with Art NSDRS. The impressive selection of 10k fine art NFTs features some incredible pieces of reflective and colorful work. American Animals is live from November 22, and collectors can use the promo code DCEN to reserve their favorite artworks.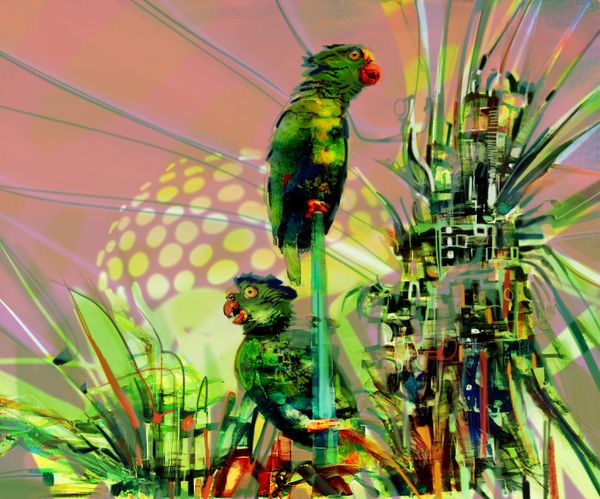 The pre-sale begins December 1st, with 500 NFTs at 0.08 ETH.



There is a selection of 500 NFTs available in the pre-sale event between December 1st-4th. At 0.08 ETH, these NFTs come with excellent utility, including exclusive Art NSDRS membership and a host of other privileges.
Spencer Reinhard – The American Animals NFT collection
The American Animals NFT collection by Spencer Reinhard is a truly remarkable collection of fine art. It is self-reflective with themes of evolution, transformation, and rehabilitation. American Animals offers a raw and colorful critique of the American Dream.
Spencer Reinhard has lived a life that Hollywood couldn't create. Now, through his collection of American Animals, NFT holders will be able to own a part of that.
The 10k images of birds and abstract paintings combine traditional and digital art forms. Each NFT is made using acrylic or ink and finely tuned using AI and digital tools. Furthermore, each NFT is unique, and no more than 84 NFTs are based on one design.
How to take part in this unique fine art NFT project
The artist has worked with ART NSDRS, a San Francisco Bay Area digital media company to create this unique project. This web3 company aims to make the world a more positive place, using art and technology to bring change.
Moreover, the American Animals NFT collection doesn't have a whitelist and wants everyone to have the chance to collect these art pieces.
On November 22st, NFT collectors can view and select their favorite NFTs on OpenSea. During this time, those interested can request a reserve listing of a fine art NFT for 0.08 ETH using the promo code DCEN.
The reserve process takes place on the official Art NSDRS Discord Server Reserved-Listings channel. This will allow NFT art collectors to join the pre-sale event of 500 NFTs via OpenSea, between December 1st – 4th.
The American Animals NFT project has excellent utility
Along with the incredible fine art, the NFT will give holders a colossal amount of utility. NFT holders will gain Art NSDRS membership. Significantly, this provides access to upcoming fine art NFT collections, airdrops, private viewings, events, reserve listings, metaverse projects, and much more.
Each American Animals NFT also comes with unlockable content. This includes an intimate eight-minute video by Spencer Reinhard. The artist talks about his work, his fascinating life, and the NFT collection in this video interview. Additionally, it offers a genuinely in-depth element to the NFT art, providing extra human layers to the exciting collection.
Visitors to Art Basel Miami Beach can also view a fascinating American Animals AR exhibition between December 1st – 3rd.
What next for Art NSDRS?
Art NSDRS collaborates with outstanding artists such as Spencer Reinhard for his fine art NFT collection. There are also some fascinating collections in the works, with blue-chip artists such as Santiago Cardenas, Ryszard Wasko, and Sergio Arau. 
Remember, from November 22nd, NFT collectors can view and select their favorite American Animals NFTs. Finally, the reserve process is simple, and 500 NFTs are available in the pre-sale that begins December 1st! You can find out more via Instagram and Twitter.
Join Our New "To The Moon" daily Newsletter
Get our free, 5 minutes daily newsletter. Join 25,000+ NFT enthusiasts & stay on top 👊🌚
---
All investment/financial opinions expressed by NFTevening.com are not recommendations.
This article is educational material.
As always, make your own research prior to making any kind of investment.