A tiger cub that Russian troops took from Mariupol's zoo has died in a Moscow circus, authorities from the Ukrainian city have said.
In a Telegram post on Friday, Mariupol City Council said that the animal was three months old when it was taken from the zoo in May this year.
Last year, the city in Donetsk oblast was the scene of a three-month long siege. In May 2022, all Ukrainian troops who had remained in the city surrendered at the Azovstal iron and steel works and since then, Russia has controlled the city. Before and after images on Google Earth released in April showed the extent of Russia's destruction of the city.
The director of the Great Moscow State Circus, Edgard Zapashny, whom Mariupol City Council described as supporting Russia's full-scale invasion, worked with the tiger cub and had posted images on social media with the animal.
The council's Telegram post said that the trainer had said the animal had died. "According to him, the animal had congenital kidney problems," reported the post although it said the trainer did not explain why its poor health did not prompt its return to the zoo. Newsweek has emailed the Moscow State Circus for comment.
In reporting the story, Ukrainian Pravda noted how Russians had taken a raccoon from Kherson Zoo during their retreat in 2022 with troops filming the animal at their positions. Oleg Zubkov, who owns a wildlife park in Crimea, had been accused of stealing the animal, along with a llama.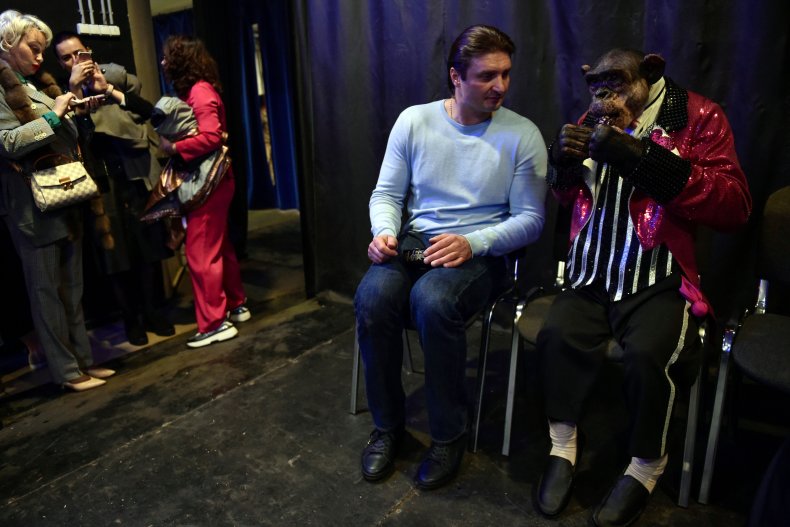 As reported by Newsweek in November, Zubkov said he was acting on official orders to save the animals from war and that they would be returned when it was safe to do so. In a purported light-hearted move, in December, the raccoon was accepted into courses at the university in Melitopol, another Russian-occupied city in Ukraine.
Russian troops were accused of stealing other animals from the zoo in Kherson, including wolves, donkeys and squirrels. The removal of the animals was widely reported in Russian media, which framed it as a positive aspect of the retreat from the city, which was was considered a major setback for President Vladimir Putin.
Throughout the war, there have been numerous reports of Russian troops looting their way across Ukraine, taking washing machines, electronics and cultural artifacts.
Soon after the start of the war, Ukraine's Defense Ministry said that Russian troops had even opened a market in Belarus to sell goods that they stole from Ukrainians during the invasion.