Former NHL defenseman and Bruins legend Zdeno Chara competed in the Boston Marathon Monday, finishing the 127th installment of the race in under four hours. 
The 46-year-old player announced on Instagram last month that he would be running the race in support of the Thomas E. Smith Foundation and The Hoyt Foundation.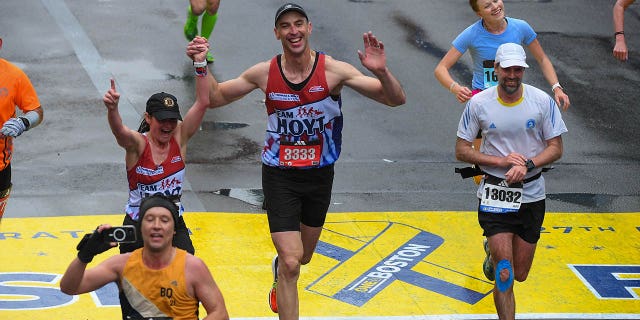 Zdeno Chara, who played 24 years in the NHL and captained the Boston Bruins' 2011 Stanley Cup championship team, crosses the finish line of the 127th Boston Marathon April 17, 2023, on Boylston Street in Boston. (Erica Denhoff/Icon Sportswire via Getty Images)
The 2011 Stanley Cup champion did not disappoint in what he said was his first-ever marathon, crossing the finish line in 3:38:23.  
BRUINS' TYLER BERTUZZI GOES VIRAL IN STANLEY CUP PLAYOFFS DEBUT FOR TROLLING PANTHERS' NICK COUSINS
"This was INCREDIBLE," Chara wrote in an Instagram post Monday. "I only heard and could imagine until I saw it, heard it, and ran it.
"Thank you to everyone who came to support the 127th Boston Marathon yesterday. Huge thank you to all the volunteers who helped all of us get to the finish line. To all the organizers and essential personnel who kept us safe and secure pre, post, and during the race. To all of you fans, you are NUTS (in the best possible way). Your loud cheers , signs, words of encouragement were so needed and helped push us through some difficult moments."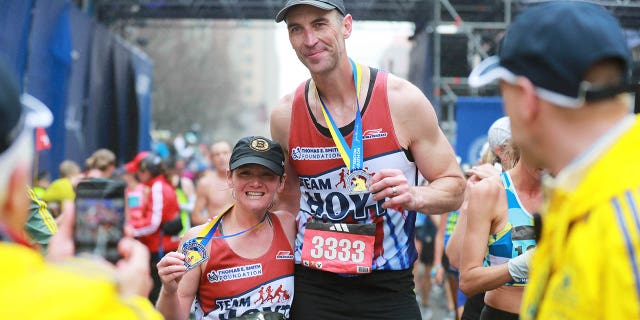 Former Boston Bruins NHL player Zdeno Chara, center, and Becca Pizzi, left, pose with their medals after completing the 127th Boston Marathon April 17, 2023, in Boston.  (Omar Rawlings/Getty Images)
CLICK HERE FOR MORE SPORTS COVERAGE ON FOXNEWS.COM
The 6-foot-9 defenseman played 24 seasons in the NHL, the majority them in Boston. He led the Bruins to three Stanley Cup finals, ultimately hoisting the coveted trophy in 2011.
"That guy's an animal," Bruins star Brad Marchand said of Chara, via the team's website. "I texted him right before the race and it's impressive. Just how dedicated he is to everything. He does not surprise me.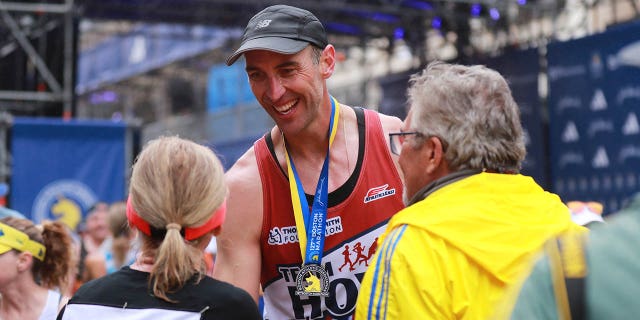 Former Boston Bruins player Zdeno Chara, center, interacts with other runners after completing the 127th Boston Marathon April 17, 2023, in Boston.  (Omar Rawlings/Getty Images)
CLICK HERE TO GET THE FOX NEWS APP
"I was surprised he didn't win the race, to be honest with you. But he's incredible, he's just such a specimen. It's a lot of fun to see. He popped in the room here [Tuesday], and I was really happy for him."
According to NBC Sports Boston, other Boston athletes to have run in the marathon included former NFL quarterback and Boston College hero Doug Flutie and World Series champions Brock Holt and Ryan Dempster.