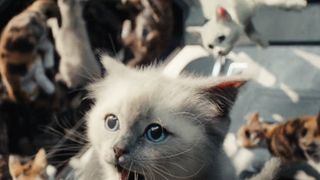 (Image credit: Marvel Studios)

There's not much Captain Marvel can't do; Avengers: Endgame proved she's one of the MCU's strongest heroes. But there's one thing she – well accurately, Brie Larson – isn't so great at, and that's being in the same room as a cat. 
Due to the actor's allergies, the majority of scenes Carol Danvers shares with her moggy mate Goose were filmed with a stunt double. The others, animal trainer Jo Vaughan tells Total Film magazine in the new issue out on August 17, were captured using her or one of her team standing in instead.
"We would have one of us standing in a [green or blue] suit while doing the action with the cat. We had a three-month training period," she says. "I read through the script, and marked down all the actions that the cat needed to do. These cats go onto set knowing everything that they're going to do. When we come to shoot, we break it down day-by-day. The day before we will prep what we're going to do the next day so it's fresh in their mind."
Nemo and Tango, two orange tabbies, played feline-looking Flerken Goose, and each of them had a particular set of skills they brought to their paw-formances. "Nemo was better at running and jumping. Tango was the hero face of Goose. Whenever we did close ups, wherever possible, it would always be Tango. The naughtiest thing one of them did happened when we were on one of the sets where the ground was quite gravelly. We were all ready to go and it was just a giant cat-litter box. He didn't go to the toilet on set, but he came out and just started rolling around in it straight away. 
"The most challenging aspect of training a cat is the enormity of the sets, the huge crew, and time constraints. It's a lot for a cat. But they did us proud – as did the ten kittens." Yep, you read that right… there are Flerken babies in this movie, too.
Directed by Candyman's NiaDaCosta, The Marvels follows on from the events of Disney Plus series Ms. Marvel, which saw the titular Kamala Khan (Iman Vellani) swap places with her idol Captain Marvel. In the movie, the pair find out the hard way that they inconveniently switch places whenever they use their powers  – and it's not just those two, either: WandaVision's Monica Rambeau is also mixed up in the Freaky Friday-esque mayhem. Samuel L. Jackson is set to reprise his role as Carol's unlikely bestie Nick Fury, with Saagar Shaikh, Zenobia Shroff, Mohan Kapur, Park Seo-joon, and Zawe Ashton, who appears as Kree baddie Dar-Benn, rounding out the supporting cast.
It opens on November 10. The above is just a snippet of our interview in the new issue of Total Film magazine, which features The Marvels on the cover. The magazine hits shelves this Thursday, August 17. This issue also comes with a free 48-page photo supplement looking behind the scenes at Warner Bros to mark 100 years of the studio. Check out the covers below:
If you're a fan of Total Film, why not subscribe so that you never miss an issue? You'll get the magazine before it's in shops, with exclusive subscriber-only covers (like the one pictured above). With our latest offer, you can get a free gift worth £69.99 when you take out a print/bundle subscription. Head to MagazinesDirect to find out more (Ts and Cs apply).