A dog that likes to wave at his owners when they return home has melted hearts online.
Charlie, a Yorkshire terrier and poodle mix—also known as a Yorkiepoo—has delighted the internet after his owner shared how he sits in the window and waits patiently for their return.
In a video with 1.6 million views the 8-month-old Yorkiepoo from New Jersey is looking out of the window when his owner arrives home and puts his paw up to wave.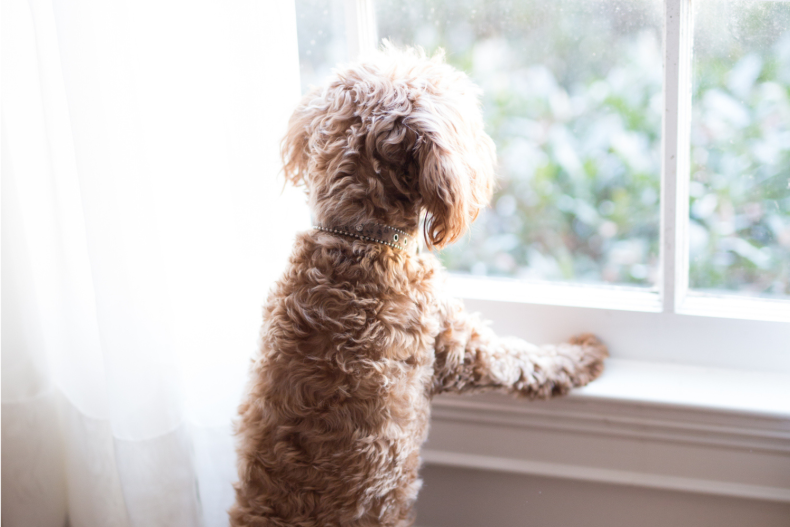 "When your dog waves at you when you get home from work," said the loving owner in the TikTok video before adding "we don't deserve animals."
The adorable footage has delighted viewers. Accredited dog trainer and canine behaviorist Joe Nutkins explained what she could see.
"Very sweet little dog but he's not actually waving—although wouldn't it be lovely if our dogs did do this," Nutkins told Newsweek. "In this clip we see a very sweet and calm dog watching their owner approach the house and the dog stretches a paw to the window. Although it looks like a wave and it is incredibly adorable, the paw is reaching for the window.
"It is possible that this dog has been taught when their owner walks to the house and raises their hand that this is their cue to lift their paw—then get a reward once their owner is inside. Very clever and still very cute," she added.
Doggy excitement when they see their much-loved owners, friends, or even fellow dogs is often a favorite online, but there are important things to remember before leaving your pet alone.
"Leaving our dogs for a few hours is very reasonable, assuming they are not stressed by this, and length of time they are comfortable being left varies from dog to dog," said Nutkins. "My own terriers appreciate the peace and quiet when we are out as there's no work being done on the house. They are fine to be on their own seven or eight hours if we got stuck in traffic and we use our CCTV around the house to check on them and they are always napping.
"However our chocolate Labrador prefers our company and although will also use alone time for a good sleep, she is ready to see us again by four or five hours," she explained.
When leaving your pet at home alone, you should always ensure their safety and comfort while you're away.
"Ensure your dog has access to at least water, so if it's in one room and your dog can access several rooms with doors in between, prop the door open so they cannot be shut out," said Nutkins. "You can opt to leave food for them too, or give a chew or filled treat toys, which can give dogs something to tire them out while you're gone."
Before leaving your dog at home for the first time, there are ways to help your pup adapt to the idea of being away from you for a short while.
"Especially if you have a new puppy, rehome or rescue dog, you can practice by closing a door between you and your dog randomly. Don't announce it just slip into a room and close the door for a short moment then return and continue what you were doing," suggested Nutkins.
"This starts helping your dog see you being the other side of the door is normal and not something to worry about. By having times when you're home but not interacting with your dog shows them they aren't missing anything when you're there or when you leave the room and can help prepare them for you leaving the house for longer periods."
Newsweek reached out to @charlie.theyorkiepoo_ via TikTok for comment.
Do you have funny and adorable videos or pictures of your pet you want to share? Send them to [email protected] with some details about your best friend and they could appear in our Pet of the Week lineup.