Orcas and sharks are about to come face to face once again in Cape Cod waters.
Four orca were spotted swimming together 40 miles south of Nantucket on June 11, the New England Aquarium said.
"According to our scientists, it is unusual to see killer whales in New England waters, let alone four!" the aquarium said, referring to orca by the other term they are commonly known by.
The sighting coincides with when great white sharks typically arrive in the area to feast on Cape Cod's abundant seal population.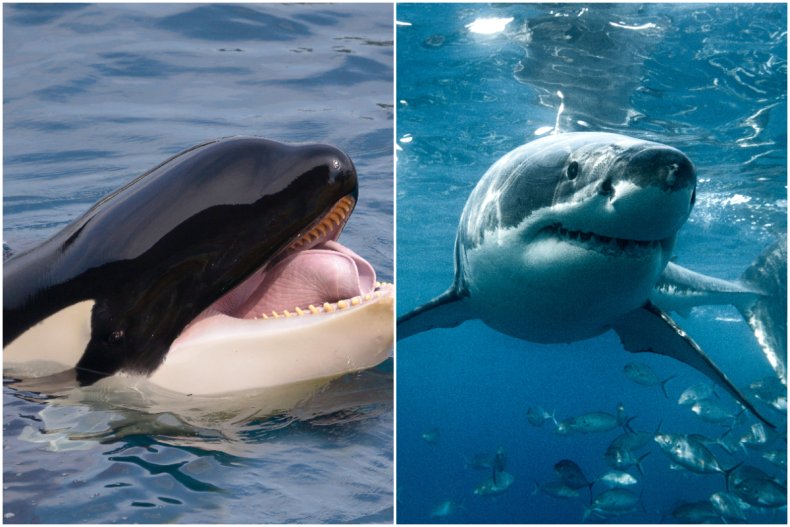 Great whites are an apex predator of the seas. However, there is one animal that poses a threat to them: orca.
Although it is generally rare, orca have been known to feast upon sharks when they find themselves in the same waters as the predator. This has mainly been documented in South Africa, where two infamous orca known as Port and Starboard have devoured great white sharks.
In 2019, a study conducted by researchers at the Monterey Bay Aquarium found that whenever orca were observed in an area, great white sharks quickly fled.
Great whites come to Cape Cod waters every year, migrating north for the summer. However, orcas are rarely seen off Massachusetts. In the U.S. orcas typically reside in waters from central California to southeast Alaska.
It is not the only time orcas have been spotted off Cape Cod, however. Last year, a lone orca was spotted swimming 40 miles east of Nantucket. It is not clear why orcas come to this area.
Bob Hueter, chief scientist at OCEARCH—an ocean research organization that tags great white sharks to learn more about their behavior—told Newsweek in 2022 that when these two predators come face to face "there can be conflict."
"Orcas have been seen harassing white sharks and even killing them at times," he said.
"If the orca sticks around or others appear this summer, there could be some effects on the white sharks that normally feed on seals there," Hueter said of the orca spotted off Nantucket last year.
"The two species could be in competition with each other for the gray seals of the Cape," he said. "As a matter of perspective—it's gratifying to see orcas, white sharks, seals, turtles, fish and other marine creatures rebounding off the U.S. Atlantic coast. This is a result of dedicated efforts in marine conservation and fisheries management over the past 30-50 years. All of these efforts are paying off and we finally have a hopeful story in ocean health and conservation."
Do you have an animal or nature story to share with Newsweek? Do you have a question about orca and great white sharks? Let us know via [email protected].