Dog House of Horrors
Dozens of Special Needs Pups Saved
After Animal Abuse Claims
9/23/2023 5:47 PM PT

A woman said to be running a special needs dog rescue out of her Arizona home landed in jail after mounting allegations of animal abuse … resulting in a major confiscation of pups.
April Mclaughlin was arrested Friday evening in Chandler, AZ following a search warrant that was executed at her house by local law enforcement … which resulted in her being hauled away and booked on 55 counts of animal abuse, 55 counts of animal cruelty and a lone count of vulnerable adult abuse. All of this stems from what they found in this one home.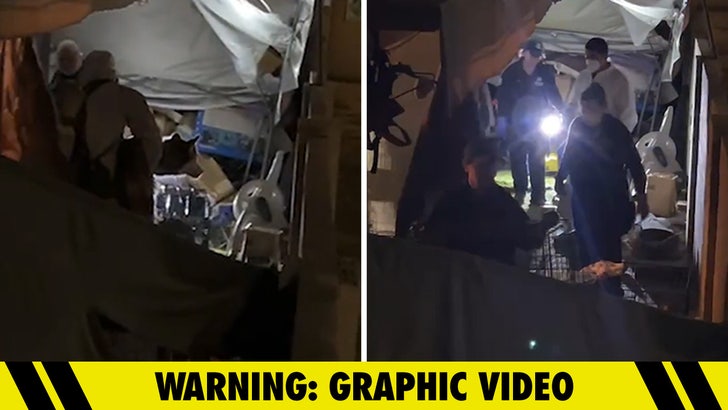 Instagram/@handoverrover
Multiple agencies were on the ground last night responding to the scene … including the Arizona Humane Society, which assisted in removing dozens of canines from the property.
There were even hazmat teams deployed to deal with this — as there was a reported foul odor emanating from the home that could be smelled from the street. Multiple bystanders watched as they removed dog after dog … many of which were disabled and couldn't walk.
The bust follows weeks of claims from different animal rights orgs and other dog rescues in the area, as well as outside of the state … with a key handful of women beating the drum on social media trying to raise awareness about what they alleged was going on here.
Essentially, they claimed this woman had gone around taking in special needs dogs from other dog rescues that didn't have the resources to accommodate them — bringing them to a rescue called the Special Needs Animal Welfare League … which these accusers allege is a total front, and that it simply existed as her own house as opposed to a legit facility.
Instead of providing them proper care, however … these other orgs assert Mclaughlin treated them terribly — allegedly removing the doggy wheelchairs of several of the pooches under her watch, and allegedly leaving them malnourished — among other horrible conditions. Some of the court docs obtained by local outlets appear to back at least some of this up — detailing what officers say they found inside, including several dead dogs in the freezer.
Here's another twist … some outlets report that Mclaughlin had used multiple aliases to do what she's been alleged to have carried out. Obviously, unraveling this case will take time.
Unclear if AM's still in custody or not — she's said to have been taken to Maricopa County Jail on $2,500 cash-only bond. Some reports have her on record as denying wrongdoing.
Whether she gets out or not … her house has been officially condemned by the authorities.