Press Release
•

Oct 20, 2023
TCC is accepting donations on behalf of the Animal Welfare Association throughout the month of October and sponsoring a one-year-old pit-terrier mix named Austin Powers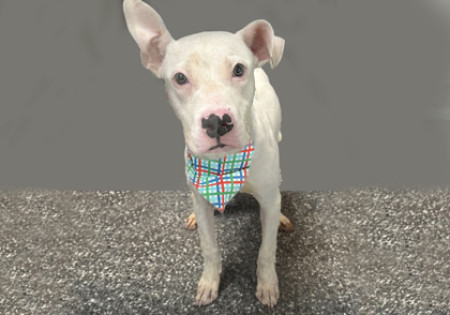 BLACKWOOD, N.J., October 20, 2023 (Newswire.com)
–
In a passionate effort to raise awareness and challenge misconceptions about pit bulls, Transylvania Concrete Coatings in New Jersey (TCC) is proud to announce its partnership with the Animal Welfare Association during Pit Bull Awareness Month this October. 
TCC is dedicated to shedding light on the misconceptions surrounding this beloved breed and aims to make a positive impact on its reputation. Bogdan Pop, the owner of Transylvania Concrete Coatings, has long been an advocate for pit bulls and a proud owner of these loyal and affectionate dogs. 
"I've witnessed firsthand the love and loyalty pit bulls offer," said Pop. "It's disheartening to see these incredible dogs being unfairly labeled as dangerous and even banned in some communities. We want to change that narrative and give pit bulls the recognition and love they deserve."
As part of their commitment to Pit Bull Awareness Month, TCC is accepting donations on behalf of the Animal Welfare Association throughout the month of October. These donations will support the shelter's efforts to provide care, rehabilitation, and advocacy for animals in need.
Furthermore, TCC is sponsoring a dog at the shelter to show its commitment to helping these animals find loving homes. Austin Powers is a year-old pitbull-terrier mix who is still looking for his forever home. Learn how to donate or adopt an animal at the shelter.
In addition to their partnership with the Animal Welfare Association, TCC is sponsoring several other charitable events throughout October. These events include:
HotRod Garage Car Show for Breast Cancer Awareness (Oct. 1): TCC is proud to support the fight against breast cancer by sponsoring the HotRod Garage Car Show for breast cancer awareness, an event dedicated to raising funds and awareness for breast cancer research and support services for a local family.
Camden County 4-H Pumpkin Patch (Oct. 21): TCC's involvement in the 4-H pumpkin patch event on October 21 shows their dedication to supporting the community, as well as creating memorable experiences for families.
American Red Cross Halloween Blood Drive (Oct. 31): As part of their ongoing commitment to community well-being, TCC is sponsoring the American Red Cross Halloween Blood Drive on October 31, helping provide blood for those in need.
Transylvania Concrete Coatings is excited to be part of these meaningful initiatives and invites the community to join them in making a positive impact this October. By supporting Pit Bull Awareness Month and other charitable events, TCC is not only enhancing its community involvement but also striving to create a more compassionate and informed society.
Transylvania Concrete Coatings is a leading concrete coatings company in NJ that enhances the durability and aesthetics of concrete surfaces.
Source: Transylvania Concrete Coatings